9 Bar Marketing Ideas to Try in 2019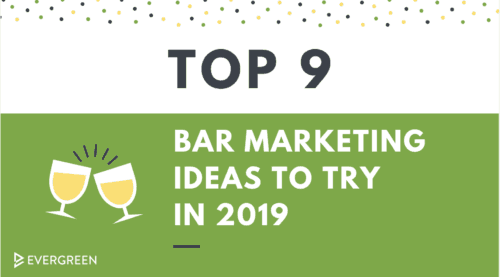 It's been a whiz-bang whirlwind of a holiday season, but as any bar or restaurant owner knows, that doesn't mean you get to kick back. No way. It's a New Year and time for new ways to attract customers and fatten those margins. Lucky for you, we created a list of the top nine bar marketing ideas to try in 2019. Read on and go try something new!
#1 Pin Yourself on Google Maps
It only takes a day for 75% of people who use a smartphone to search for a local business to visit. With 84% of consumers conducting local searches, that's a lot of people ready to stop by your bar or restaurant. Google Maps is arguably the top platform for location-
based searching, and setting up ads there is easy. A new promoted pins feature lets local businesses promote themselves with an eye-catching "purple pin." You can even list a special deal to drive foot traffic, as in this Walgreens example.
#2 Post Instagram Stories
Chances are good that your bar has an Instagram profile. But if you're only posting images, you're missing out on all that Instagram has to offer. Posting an Instagram story is a great way to engage with your followers and drive traffic to your website. Instagram stories are informal and fun, so if your bar has a laid back vibe, this format is made for you! Plus, if you have more than 10,000 followers, you can include "swipe up" links. Link to your reservations page, an order now page, information on that new band that's playing Friday… you get the picture.
#3 Chat(bot) with Online Visitors
We're just going to say it: people are lazy. You could have a professionally-designed website with clearly-labeled headers, contact information, hours, a reservation link, etc. and many folks still won't take a few seconds to read it. In today's digital age, people want their questions answered now and chatbots are a fantastic way to provide quick information and drive those hangry patrons through your doors. With providers offering plans as low as $20 a month, chatbots can be an incredibly cost-effective way to give people quick information about your location, encourage them to make reservations, and more. Here are 9 ideas for putting them to good use.
#4 Promote Popular Facebook Posts
When it comes to Facebook, even a few dollars go a long way. Consider spending $50 per month to promote a popular post or two. You can target these ads to people in specific locations, age groups and more to ensure your dollars aren't going to waste. You can also just target people who already follow your page. You can bet they'll be interested in your $3 tacos!
#5 Buddy Up!
A strategic partnership is one of the most cost- and plain-old effective ways to drive more business. What makes a good partner? Complementary — not competing — interests. Are you a sports bar in a ski town? Promote a ski lift discount on your digital menu in exchange for Facebook posts promoting your happy hour. If you're a downtown cocktail lounge, ask a neighboring salon to co-host a "treat yourself package" with spa specials followed by two-for-one mojitos. Get creative and remember that, when it comes to foot traffic, a rising tide raises all boats bars.
#6 Claim & Maintain Your Google My Business Page
Consumers are 38% more likely to visit a business with a complete listing. So make sure yours is up to date! List your website, phone number, address, high-quality photos and hours. And don't forget to respond to your reviewers!
#7 Respond to Your Reviews
Those of us in the industry love to hate on Yelp, but your customers don't feel the same. Review platforms are a vital way for today's consumers to find and evaluate a business before they stop in. A full 30% of consumers highly value a business' response to reviews. And that's saying nothing about the person who has already visited you and actually wrote the review! Thanking them is a golden opportunity to earn a loyal customer. You might not have time to respond to each and every review (though in a perfect world you would), but you should be thanking your most enthusiastic reviewers for their praise and promptly addressing negative feedback. Be sure you have a plan in place and remember, your customers care.
#8 Tag Your Location on Instagram
If you haven't tagged your business location on Instagram, you're missing out. This is a key way for consumers to find your bar or restaurant! Make sure your business is presented in the best light possible by tagging your location when you post about that new beer you have on tap or share a video of the local band that brought down the house last night. It will encourage people to stop by!
#9 Run a Call-Only Campaign
If someone sees an ad for your business, would you rather they head to your website or give you a call? That's what we thought. Google's call-only campaign setting lets you promote your phone number so people can contact you in-the-moment when they're thinking about drinks. Now that's smart spending!