25 Bar Opening and Closing Procedures [WEBINAR & CHECKLIST]
First impressions are important. Whether it's your handshake or your entryway, what guests see first frames their opinion of you and your business. Creating and implementing a solid opening and closing procedure will ensure that your location always looks its best when your customers come in the door. We've compiled a few helpful resources for busy owners, managers and bartenders to ensure these key duties are not missed. Watch the webinar, download the checklist and get ready to implement these key processes in your bar or restaurant. Your staff and customers will thank you!
Opening & Closing Procedures Webinar
Watch the webinar to learn the most important opening and closing procedures every bar needs to maintain a sparkling clean, professional atmosphere. We also cover the best methods to keep your staff organized and tasks completed.
Bar Opening & Closing Checklist
We're big believers in the power of checklists. Here's a handy bar opening and closing checklist to make things easy. Customize the list of duties to suit your bar, print 50 copies and get that process pumping!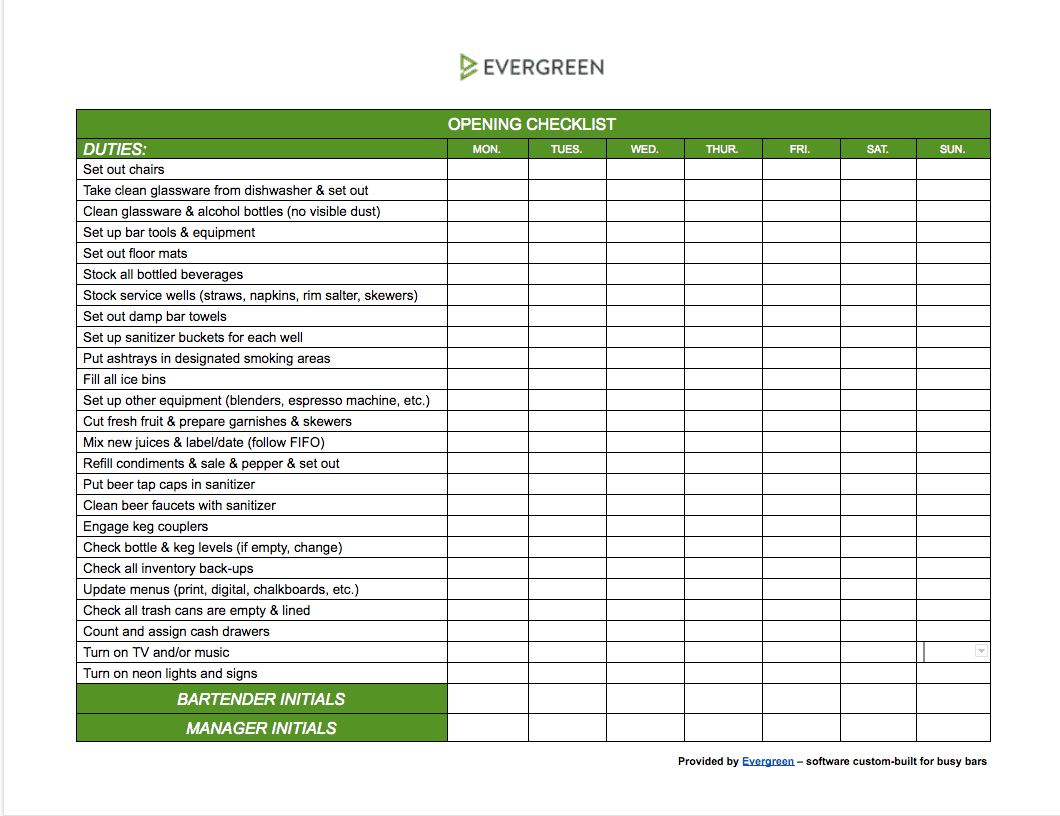 Top 25 Opening & Closing Duties
Whether you're a one-man show or managing a bar staff of 50, these are the top 25 opening and closing procedures you need to know.
Top 15 Bar Opening Procedures
Opening your bar at the beginning of the day can be a drag. Even if it was closed properly the night before, there are likely many tedious, little items that need to be taken care of. And with the anticipation of a busy day in front of you, it's important to crank through your checklist as quickly and efficiently as possible. Here are the top 15 activities to take care of before you open your bar:
When you arrive, take a quick walk around the outside of your building and clear any debris or unpleasantries from your entryways and windows

Open the door and note anything that immediately jumps out at you as needing attention (odors, misplaced items, spills or things that need to be cleaned)
Clean floors (you can never vacuum too much)
Wipe down countertops and tables
Replace and refill any condiments and tabletop items
Clear the beer lines by pouring out a few ounces of beer from the taps
Inspect all the taps for buildup and bugs (we suggest using a squirt bottle with warm water in it)
Rinse all the drains
Taste the beers to check for infections or line defects
Check for lipstick on the clean glasses
Check your web, Facebook, Google, print and/or digital menus, update as needed
Wash down your work space & empty the trash
Check dates on open wine bottles (don't date your wine? you should!)
Set up clean towels so they're easily accessible during your shift
Get the till ready to go
Top 10 Bar Closing Procedures
Date any newly-opened wine bottles

Set all glasses up to air dry
Rinse inside all the taps
Wipe down taps and spouts
Cover spouts with rubber protectors to keep flies out
Rinse all the drains thoroughly
Wash drain covers
Mop down behind the bar
Recycle outdated menus
Take out the trash and recycling and rinse containers if needed